The advantages of molecular sieve oxygen concentrator in hospital oxygen supply
17 Feb 2023
Based on the principle of molecular sieve pressure swing adsorption oxygen technology and deep-cooling oxygen technology, molecular sieve oxygen concentrator have great advantages in hospital oxygen supply.
Compared with traditional cylinder oxygen supply and liquid oxygen centralized oxygen supply.Molecular sieve oxygen concentrator has advanced technology, high degree of automation, long service life, can avoid many shortcomings of traditional oxygen supply methods, has safety, convenience and economy.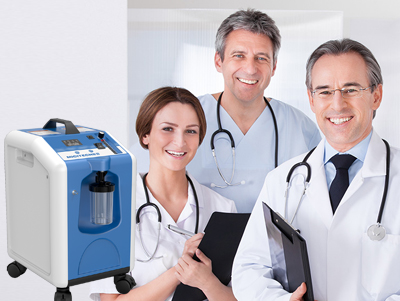 Deep-cooling oxygen concentration technology
Cylinder oxygen supply and liquid oxygen centralized oxygen supply generally use the deep-cooling oxygen production technology, whose preparation principle is to take air as raw material, remove impurities such as dust and water vapor through pre-treatment, and then turn the air into liquid air through heat exchange and cooling.
The principle that nitrogen and oxygen have different boiling points is used to obtain liquid oxygen by lowering the pressure and increasing the temperature to vaporize the nitrogen.The cylinder oxygen supply is the vaporization of the prepared liquid oxygen, which is loaded into cylinders of different capacities under normal temperature and high pressure and delivered to each department for use.
The cylinder oxygen supply is the vaporization of the prepared liquid oxygen, which is loaded into cylinders of different capacities under normal temperature and high pressure and delivered to each department for use.Due to cost, technology, site, safety and labor factors, general hospitals are unable to produce oxygen by the deep-cooling method, and usually need to purchase liquid oxygen from liquid oxygen preparation vendors on a regular basis and have it delivered to the hospital by special liquid oxygen trucks for filling.
Molecular sieve oxygen production technology
Molecular sieve pressure swing adsorption (PSA) gas purification and separation technology was developed after the 1960s in response to pollution control and environmental protection.It has been widely used and developed in petrochemical, gas industry, steel industry and medical and health care industries.
Molecular sieve is a crystalline silica-aluminate compound with a porous cage skeleton structure, which has good adsorption selectivity and efficient adsorption capacity.When the air flows through the suction tower with molecular sieve, the molecular sieve preferentially adsorbs nitrogen molecules, while oxygen molecules are rarely adsorbed.This unique selective adsorption property of molecular sieves makes it possible to use molecular sieves to produce oxygen.
At constant temperature, the adsorption capacity of the molecular sieve for nitrogen varies with pressure, and the adsorption capacity increases when the pressure increases and decreases when the pressure decreases.This feature allows for the adsorption and release of nitrogen under pressure.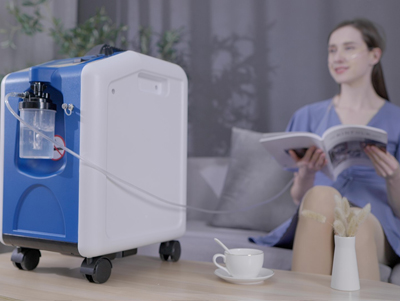 The superiority of molecular sieve oxygen concentrators
Molecular sieve oxygen production has a greater degree of advantage over deep-cooled oxygen production in terms of national regulations, safety, convenience and economy.
Liquid oxygen storage tanks for centralized oxygen supply are high-pressure containers and are subject to mandatory fire regulations.Outdoor installation on the ground, the need to distance from surrounding civilian buildings ≥ 15m, from important public buildings ≥ 50m, and no open flame within 30m.
For general hospitals, it is not only difficult to achieve, but also causes a lot of waste of land resources.Molecular sieve oxygen concentrators belong to Class I Type B Permanently installed equipment with low working pressure (<5 kg/cm2 ),no fire protection requirements, can be installed indoors and has a small footprint.
The compressed oxygen in cylinders is highly pressurized, and during transportation, handling and storage, improper operation and management may lead to explosion, which is highly dangerous.
Liquid oxygen centralized oxygen supply method liquid oxygen is very low temperature, vaporization inadvertent contact will cause serious injury to personnel.
The oxygen storage capacity of liquid oxygen tank is very large, if leakage occurs, a large amount of liquid oxygen will be vaporized under pressure, forming local extremely high oxygen concentration air, and the risk of explosion is very high.In addition, the liquid oxygen tank needs to be evacuated periodically, which is dangerous for the operator.
The molecular sieve oxygen concentrator works at room temperature and low pressure, oxygen preparation is ready for use, and the amount of oxygen stored in the oxygen storage tank is small, so it is not easy to explode even in case of leakage.
At present, the home molecular sieve oxygen concentrator on the market, although its portability is excellent, but the oxygen concentration level can only reach about 80%, can not meet the medical provisions of molecular sieve oxygen 90% concentration level requirements.
However,Micitech's medical grade molecular sieve oxygen concentrator can reach 96% oxygen concentration level, which is a high quality oxygen concentrator that can be used for medical and home use, with a wide range of applications and a large audience.
With the development of science and technology, molecular sieve oxygen technology will continue to develop and improve, so that the oxygen concentration level is higher and purer, the equipment life is longer, the degree of automation is higher, and the portability is better.To provide better support for modern hospital construction and social medical equipment.
Keywords: oxygen concentrator
Originally published 17 Feb 2023, updated 17 Feb 2023.